New issue of SpokenVizions Magazine
is now available.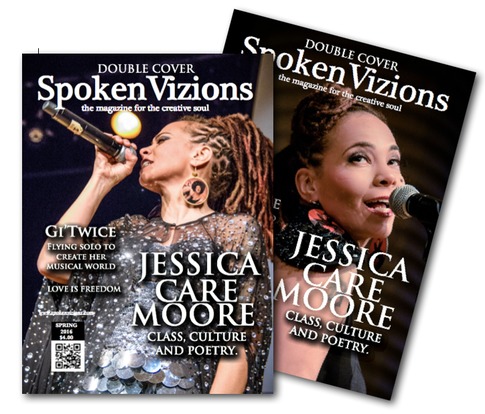 SPOKENVIZIONS MAGAZINE
What's inside the Spring ISSUE?
WINNER OF THE NATIONAL POETRY AWARDS
2011, 2012, 2013 and 2014 POETRY MAGAZINE OF THE YEAR.

Welcome to 2016. Thank you all for continuing to take this poetic journey with us. SpokenVizions Magazine is becoming more and more noticeable. It is truly the magazine for the creative soul.


Featured in this special double cover issue is the legendary poet and activist Ms. Jessica Care Moore. Also featured is Gi-Twice, formerly of Mahogany Dust. This issue is a very empowering issue and it also featured Taina Delamar and Yoga instructor/Occupational Therapist/Model Saidia Therapylady.

Just click on the drop down links, order your issue or subscribe. It's that easy.
Introducing our first public fundraiser. Click of the flyer below for more details.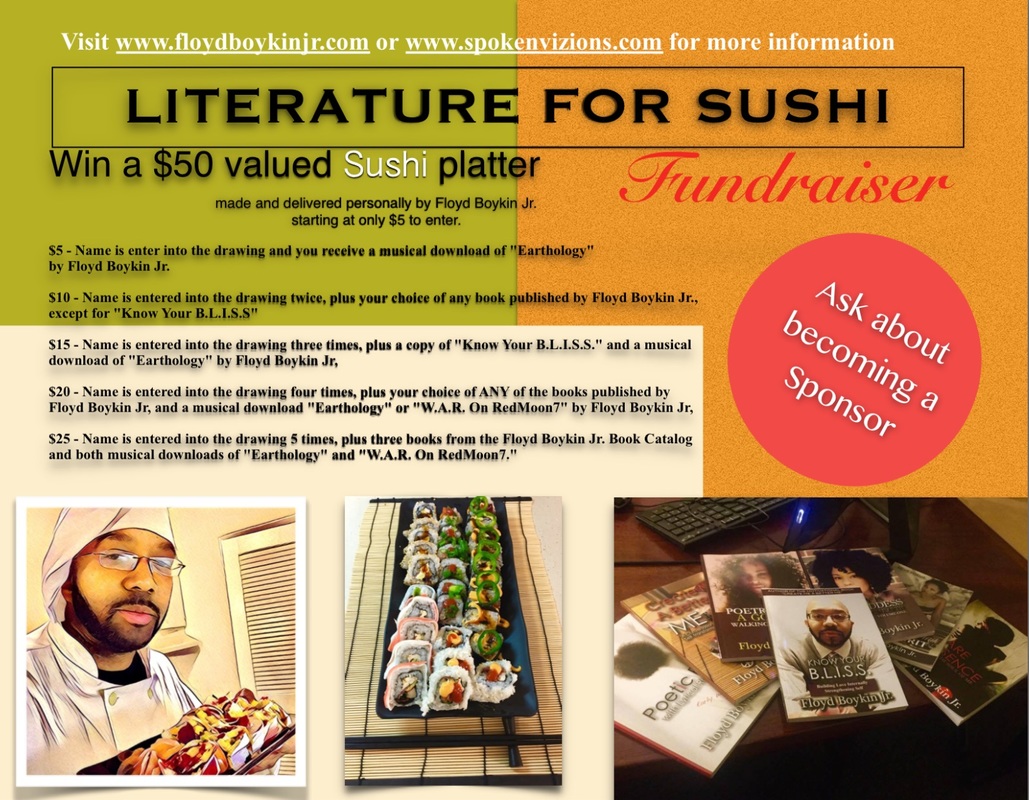 LUPUS AWARENESS ISSUE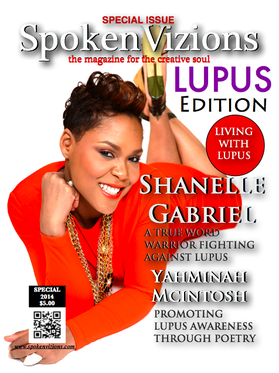 SCROLL DOWN FOR THE LATEST ISSUES OF SPOKENVIZIONS MAGAZINE AND SVY MAGAZINE.





When you subscribe to SpokenVizions Magazine or SVY Magazine, (which are digital publications) you will also receive our SPECIAL DIGITAL LUPUS EDITION of SpokenVizions Magazine, featuring Shanelle Gabriel, Yahminah McIntosh, Ronya Williams, The Princess of Poetry Janelle Strickland, DeeNa Adair, Nathan P, DeVonshae Person and Loretta Brown. This issue ABSOLUTELY FREE with your paid subscription. Thank you for the support.


(The SpokenVizions Magazine Lupus Edition is $5 without a subscription.)
SpokenVizons Magazine and SVY Magazine are digital publications. Both are downloadable. Hard copies are not available at this time.
---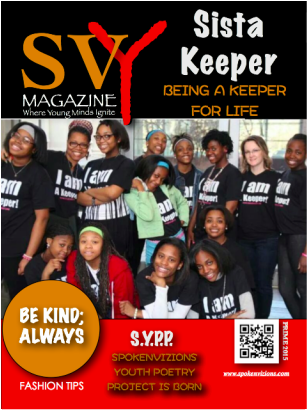 SVY MAGAZINE! SVY Magazine (SpokenVizions Youth Magazine) is our brand new digital publication geared toward the youth, 13 to 20, in the world of art and entertainment. And as a special celebration for the release of SVY, when you subscribe to SVY, you automatically become a subscriber to SpokenVizions Magazine for FREE. If you are already a subscriber to SpokenVizions Magazine, you will automatically become a subscriber to SVY Magazine for FREE.

Click on the magazine image to subscribe to SVY Magazine.
---

Order your copy of the brand new book "Know Your B.L.I.S.S. (Building Love Internally Strengthening Self)" by SpokenVizions Magazine Editor Floyd Boykin Jr.

This is his follow up motivational book to the top seller "Create Me A Better Me: A Conversation About Self-Transformation."

"B.L.I.S.S." starts where "Create Me A Better Me" left off. This is a book about loving yourself deeper, tapping into your passion(s) and living in your purpose. This book is about starting your journey NOW.

ORDER YOUR COPY OF "CREATE ME A BETTER ME: A CONVERSATION ABOUT SELF-TRANSFORMATION" BY SPOKENVIZIONS MAGAZINE'S EDITOR FLOYD BOYKIN JR. TODAY!!!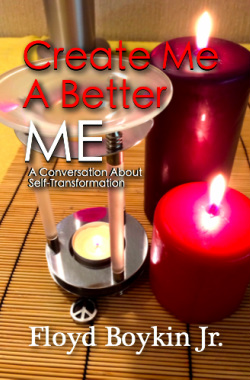 ORDER the highly anticipated motivational/self-help book "Create Me A Better Me: A Conversation About Self-Transformation" by SpokenVizions Magazine's Founder and Editor, Poet, Lupus Awareness Advocate Floyd Boykin Jr. This book is a great book to spark conversation about improving oneself. It is about deciding to love oneself deeply so that you empower yourself to be the best you can be.

Release is January 21, 2014. We appreciation your support in making this book a reality. For more information, please e-mail us at info@spokenvizions.com.

Floyd's artist page is live. Please visit the newly remodeled
www.floydboykinjr.com right now.
---
---
---
---
| | |
| --- | --- |
| SpokenVizions Magazine Commercial | |
---
How can I become
the artist of the month?


If you would like to be considered for the Artist Of The Month, please email your bio, website information, and links to sample music or videos to

info@spokenvizions.com

. It's that simple. We will review your information and you could be the next artist spotlight on our site. We look forward to hearing from you and being introduced to your talents.

---
---