INTRODUCING
SVY MAGAZINE! SVY Magazine (SpokenVizions Youth Magazine) is our brand new digital publication geared toward the youth, 13 to 20, in the world of art and entertainment. And as a special celebration for the release of SVY, when you subscribe to SVY, you automatically become a subscriber to SpokenVizions Magazine for FREE. If you are already a subscriber to SpokenVizions Magazine, you will automatically become a subscriber to SVY Magazine for FREE.

Click on the magazine image to subscribe to SVY Magazine.
---
SPOKENVIZIONS MAGAZINE
What's inside the current issue?

WINNER OF THE NATIONAL POETRY AWARDS 2013
POETRY MAGAZINE OF THE YEAR.


WINNER FOR THE 3RD YEAR IN A ROW
"POETRY MAGAZINE OF THE YEAR 2012"
(NATIONAL POETRY AWARDS)
WINNER of the 2011 NPA (National Poetry Awards) for
"THE POETRY MAGAZINE OF THE YEAR"

It is a brand new year and SpokenVizions Magazine is back with our Winter Edition. Gracing the cover is the spectacular voice of inspiration Ms. Andrea Gibson. Also featuring in this issue is the Queen of Heels, Ms. Kamilah Barrett. Some of you may be familiar with her from the first season of "So You Think You Can Dance." Also featured is part two of the interview with legendary R&B groups Hi-Five and H-Town, Reagan Rigz Mendoza, the phenomenal Kevin Sandbloom, the winner of the 2013 Vizions IN Fashion Online Competition Ms. Mimi Irvin, ORACLE, and more.
Just click on the drop down links, order your issue or subscribe. It's that easy.
(Hard copies are not available at this time)
If you are interested in our previous issues, Please click on the BACK ISSUES link. Thank you for supporting us.

---
WE EXTENDED OUR OFFER TO ORDER YOUR 2014 SISTAHS OF VIZIONS CALENDAR THROUGH FEBRUARY
by Subscribing today!
We are proud to announce the line up for the new 2014 Sistah of Vizions Calendar. Featuring on the cover are FOUR outstanding and incredibly talented artists that you all should know. We have the legendary poet Jessica Care Moore, actress, producer, and author Cherie Johnson ("Punky Brewster" and "Family Matters"), the Queen of Indie Soul, singer Ms. Conya Doss and from the legendary hip hop group Oaktown's 357, Suhayla Sabir aka Sweet LD.

Also featured in this historical and amazing calendar, are seven more phenomenal artists. Gracing our pages we have poet Farida Momtaz, poet/author Tasleem Jamila, singer and songwriter Jasmine Clemente, poet and author Red Summer, poet and filmmaker Jai Harris, poet and model MasterPiece, and lyricist/hip hop phenom Ensilence. The final slot will be listed on December 1, 2013, when we announce the winner of the 2013 Vizions IN Fashion Online Competition. Starting 11-27-2013, when you order a subscription to SpokenVizions Magazine, as a bonus, you will receive the Sistahs of Vizions Calendar ABSOLUTELY FREE!!!! That's right. Get your 2014 calendar pre-orders in today by subscribing today. Just our way of saying "Thank you for support us and we support you."
*This offer is good through February 28, 2014.
---
---
ORDER YOUR COPY OF "CREATE ME A BETTER ME: A CONVERSATION ABOUT SELF-TRANSFORMATION" BY SPOKENVIZIONS MAGAZINE'S EDITOR FLOYD BOYKIN JR. TODAY!!!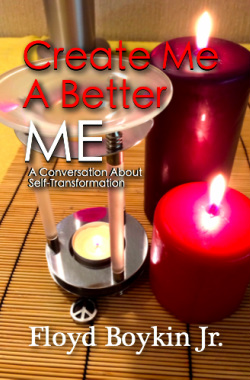 ORDER the highly anticipated motivational/self-help book "Create Me A Better Me: A Conversation About Self-Transformation" by SpokenVizions Magazine's Founder and Editor, Poet, Lupus Awareness Advocate Floyd Boykin Jr. This book is a great book to spark conversation about improving oneself. It is about deciding to love oneself deeply so that you empower yourself to be the best you can be.

Release is January 21, 2014. We appreciation your support in making this book a reality. For more information, please e-mail us at info@spokenvizions.com.

Floyd's artist page is live. Please visit the newly remodeled
www.floydboykinjr.com right now.

---
---
---
---
SpokenVizions Entertainment Group, LLC, would like to thank all of the participants, finalists, judges and voters for making this competition possible. Please be on the look out for more Mimi Irvin in the near future.

| | |
| --- | --- |
| SpokenVizions Magazine Commercial | |
---
How can I become
the artist of the month?


If you would like to be considered for the Artist Of The Month, please email your bio, website information, and links to sample music or videos to

info@spokenvizions.com

. It's that simple. We will review your information and you could be the next artist spotlight on our site. We look forward to hearing from you and being introduced to your talents.

---
---