The Evolution of SpokenVizions Magazine

Mission Statement

SpokenVizions® Magazine is committed in bridging the gap between the novice and the seasoned Poet/writer to the audiences who support them. SpokenVizions® goal is to shine globally through literature, music production, film, poetry, dance and performances. SpokenVizions® is a full entertainment company specializing in spoken word, publishing, music production, film and live performances.
The Beginning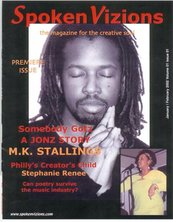 SpokenVizions Entertainment Group, L.L.C. is a St. Louis based company promoting expressions through the arts. SpokenVizions is a full entertainment company specializing in spoken word, publishing, music production, film and live performances. Founded by Floyd Boykin Jr., SpokenVizions became a Limited Liability Corporation in April of 2002 and is expanding it's market. The vision of SpokenVizions grew rapidly with the launch of SpokenVizions Magazine, providing national information and recognition about Spoken Word Artists and Poets to the general public. In such a short period of time, SpokenVizions Magazine has featured national and local poets on its cover. Artist such as Shang of B.E.T. fame and Def Comedy Jam, CanHead Recording Spoken Word Artist TANTRA (Brooklyn), Philadelphia Poet and Entrepreneur Stephanie Renee, 2x slam poetry champion at the Nuyorican Cafe Mayda Del Valle and Malcolm-Jamal Warner (his first featured interview as a Spoken Word artist) have graced the cover of our magazine. We have also featured St. Louis greats such as M.K. Stallings, ILL SKILLZ, Mama Blue and Chill Da Player. Our readership reached over 8,000 people and the web site averaged 20,000 hits per month. This was truly a great accomplishment.
---
Expansion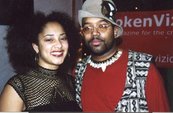 On December 7th, 2002, SpokenVizions sponsored its first premiere event, "PHONETICS: Ladies Night Out", featuring Amanda Diva (HBO's Def Poetry Jam), Ms. Nterpretation (spoken word artists), and Kimberly Poe (vocalist extreme). The event was hosted by ISIS JONES (radio personality/artist). Since then, "PHONETICS" has featured Maya Azucena of New York, Krystal Warren of Kansas City, Jamila Firdausee of Chicago, Crystalee of Virginia, and Tracy Mitchell of St. Louis to name a few.

---
Recognition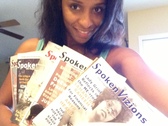 On September 18th, 2004, SpokenVizions Magazine's founder and editor, was the first ever recipient of the Keith Rodgers Founder Award for his committed to the advancement of Spoken Word at the Black On Black Rhyme Banquet in Tallahassee, Florida. He also had the pleasure of being the keynote speaker at this prestiges event. Later, in 2005, he was honored in the publication "Who's Who in Black St. Louis?", and since then has been honored on four different occasions. In January 2005, after a three year run on a hard copy publication, SpokenVizions Magazine placed it's publication on hold to restructure and to rebuild the foundation of it's organization. Many readers expressed a void in the realm of poetry in terms of print media. They expressed how they truly enjoyed reading about poets and their artistic endeavors. So, as a result, SpokenVizions launch it's magazine as an online entity, reaching a larger variety of people and continuing it's dedicated to promoting spoken word poetry and it's movement.
---
The Rebirth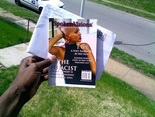 After a five year hiatus and an overflow of letters from readers, SpokenVizions re-organized and gave birth to a brand new publication. The dimensions changed from 8 x 10 size to more of a pocket publication of 5 3/4 x 8 3/4 (making it the size of a Jet Magazine or a TV Guide). The responses about the change was highly acceptable and extremely praised for it's return to the community. And it was the right time for the re-emergence because of the boom of the tablet and smartphone market. It was time to make yet another change .

---
The Digital Vision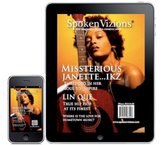 After printing the new version of SpokenVizions, the company decided to publish exclusively as a digital publication. More and more customers gravitated toward reading the magazine on mobile devices and computers. The popularity of the publication is growing. Over the past years, SpokenVizions Magazine has interviewed international poet Taalam Acey, legendary hip hop lyricist LIN QUE, legendary singers O'Bryan and Al Mac from the group TROOP, the Queen of Indie Soul Conya Doss, The Flocaist Natalie Stewart, poet J. Ivy, Suhayla Sabir (formerly Sweet LD of the group Oaktown's 357 and many more. SpokenVizions Magazine continues grow in the artistic community.

---